Curious About the State of Real Estate Prices?
Posted by Brian Burds on Thursday, February 16, 2023 at 2:00:28 PM
By Brian Burds / February 16, 2023
Comment
Curious About the State of Real Estate Prices?
As the housing market prepares for spring, recent fluctuations in property prices are a major topic of conversation. Here's what you need to know about today's home prices to sort through the misleading headlines and confusing facts.
The direction of prices varies from market to market. By contrast, Nataliya Polkovnichenko, Ph.D., Supervisory Economist of the Federal Home Finance Agency (FHFA), explains the national data as follows:
"U.S. house prices were largely unchanged in the last four months and remained near the peak levels reached over the summer of 2022. While higher mortgage rates have suppressed demand, low inventories of homes for sale have helped maintain relatively flat house prices."
The following chart shows the percentage increase or decrease in property prices from one month to the next. In addition, the figures demonstrate that the rate of price decline reached its highest point in the month of August. There has been only slight devaluation since then. In other words, housing values today are not in a precipitous decline.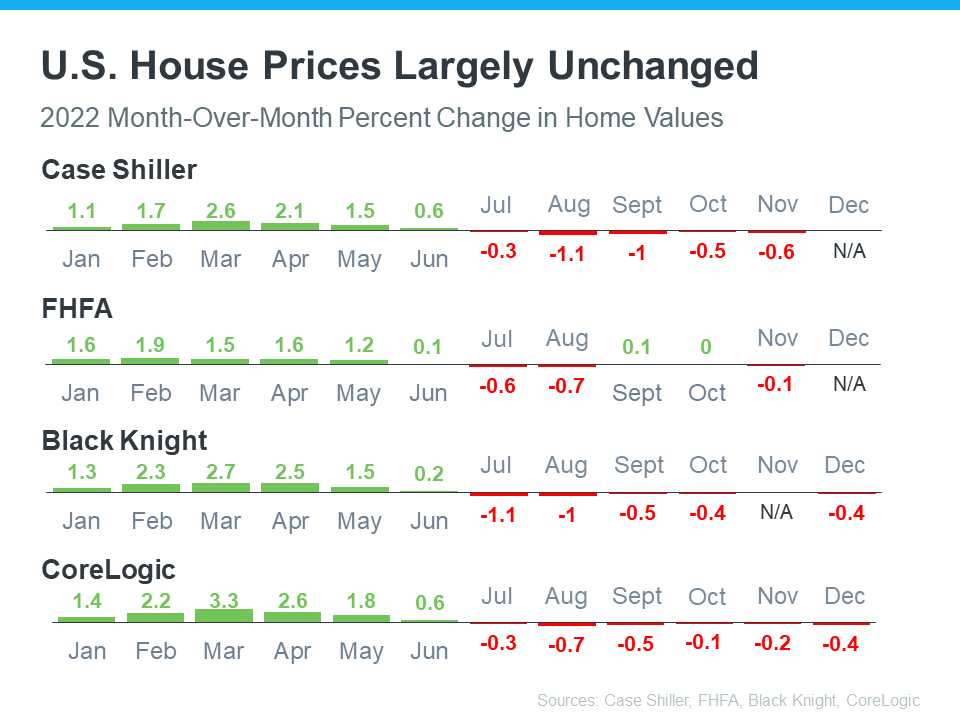 Curious About the State of House Prices? Market Simplification
And what does that imply for your future?
Even a little drop in home value can cause anxiety for a present homeowner. Yet, you should think about how much house prices have increased over the past few years. Whatever decreases we see on a national level are likely to be small in comparison to that growth. CoreLogic's Chief Economist Selma Hepp says:
". . . while prices continued to fall from November, the rate of decline was lower than that seen in the summer and still adds up to only a 3% cumulative drop in prices since last spring's peak."
Also, keep in mind that the specifics of each market should be taken into account. That's why if you're thinking of moving this spring, it's important to consult a local real estate professional for up-to-date information on home prices in your area.
The Bottom Line
Discuss your plans and needs with a local real estate expert today to get a sense of the current condition of home prices in your area and how they may affect you.